Our words and thoughts are incredibly powerful, yet, we often don't realize the effects of our negative thoughts or self talk. Positive thinking and positive self talk can help our self esteem, well-being and mental health. Our truths are the byproduct of our words and thoughts!
The first step to positive changes in your life is to give up comparing and to stop allowing all negative thoughts to consume you. The difference between thinking you are weak and thinking you are powerful is literally in your everyday thought patterns and words. If you want to see change you need to begin letting go of thinking you aren't good enough and realize that positivity is your best friend!
The simple words "I am" are so powerful they can change your life! It's time to re-center your soul with your words and you will notice the chance in your life.
Mantras are one way you can help change the way your life is going, repeating them and listening to these powerful mantras will make you feel like the best version of yourself and allow you to become exactly that! A powerful and capable being!
A mantra for self-care and to attract an abundance of love and happiness.
Chanting this mantra will ensure you stay grounded and practice both self-love and self-confidence.
With hard work and a positive mindset you have the ability to create the life you want
A mantra for courage and to remind you to let it go when it doesn't serve a positive space in your life
Be your own life coach with this daily mantra and manifest the life you desire
Chant this mantra if you need a reminder that being present and following your heart will help you be your best self.
Wellness and health are often overlooked in our busy lives, taking the time to chant this mantra will serve as a reminder not to overlook your body, mind and soul's wellbeing
A mantra to allow positive energy to flow and help you be confident and focused, especially when you allow little things to consume you.
Key takeaways
Most successful people in life have a mantra they use every day. These short but motivational and empowering mantras should help you find the one (or few) that suit you and your goals in life. Weather you choose a mantra from this list or create your own, remember to repeat your mantra every day so that your life and mindset will change for the better!
FAQs
Why is it important to have a daily personal mantra?
 Sometimes it's a good idea to create your very own personal mantra that will encourage you to be your best self. Creating a mantra that is concise will ensure you are able to make the best decisions in your life. It will help you realize your true potential and be the best you possibly can. Create a manta that aligns with your broader intentions. 
Can positive mantras heal?
If you want to heal, learn and evolve, it's crucial to make sure you practice chanting your mantra on a regular basis. Mantras work for long term change. It's been found by psychological theory that using positive affirmations can help you change the way you feel and think, mentally and physically!
Can you listen to mantras?
Of course, listening to mantras rather than self chanting is nearly the same thing. Listening to positive mantras will mostly affect your mind, while chanting will help benefit your body as well.
How do mantras affect the brain?
By chanting mantras every day, your mind actually releases positive and decreases negative energy. This ancient practice is calming for your whole being, body, mind and soul!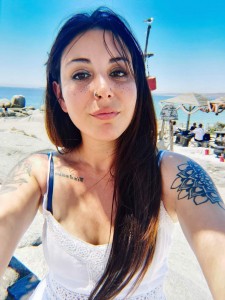 Written by:
Jade Small