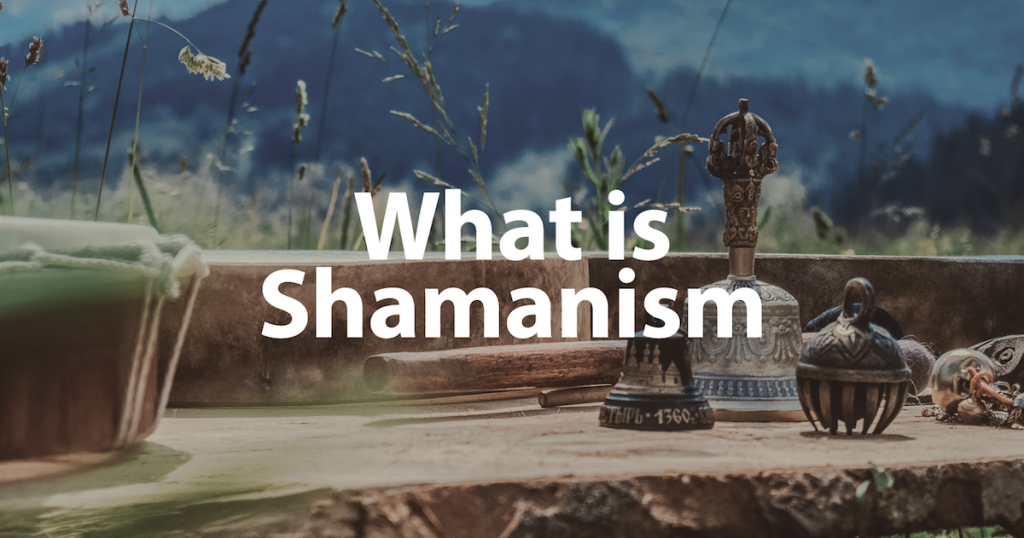 Honoring the world of form and spirit; surrendering to endless death and rebirth; this is the source of all healing — the shaman's power.
– Theodore Tsaousidis
What is shamanism? When most people hear the word shamanism, they probably think of a tribal person, dancing around a fire at night, involved in some sort of a ritual, with accompanying drum beats and singing. And that summary wouldn't actually be that far off! Shamanic practice is the custom of using traditional indigenous healing practices, many of which are found all around the world. It is the belief that our world is heavily influenced and governed by the powers of the universe and the souls of the dead. 
What Is Shamanism? Our Definition
In a nutshell, the practice of shamanism is a sacred belief system that is found all over the world and in many vastly different cultures. Shamanism is believed to be one of the oldest religious practices on Earth, and is undoubtedly the oldest known form of religion.
There are many different variations of shamanism. Sometimes it is used to heal people by calling on the helping spirits of their ancestors or to call on spirit guides or beings from other realities, in order to heal someone or restore their spiritual power. Sometimes it is using plants and their innate spiritual energy to manifest healing.

This practice has stayed the same with most indigenous cultures throughout countless generations, while at the same time it has also been modernized, helping indigenous peoples cope with more modern challenges such as issues facing wealth, business and personal relationships.  
What Is A Shaman?
A shaman is a tribal spiritual practitioner who is able to reach an altered state of heightened awareness and elevated states of consciousness, in order to help others interact with a spirit world. They are spiritual human telephones, channelling sacred messages and high vibrational, healing work energies into this chaotic world. Shamans are powerful, influential healers that gather information about the spiritual side of our existence and bring it back to our conscious reality.

These highly important spiritual leaders are the medicine-men and women of their tribes. They deal with any imbalances and illnesses, as well as healing the damaged physical body and/or emotional states. 
How Are Shamans Chosen?
Shamans are not chosen by popularity, or by their desire to become shamans. They are chosen by inheritance or by proving their innate gifts. Very few people are actually chosen to become Shamans. Those that are chosen must come from a certain background and must have experienced a clear sign "that it's meant to be" from a higher power. This 'sign from a higher power' can take the form of a prophetic dream, a meteor shower on an important date of their lives, being born with a sixth finger on their hand, by miraculously surviving a serious illness, or by any number of other ways.
Once they are chosen, before they may become a shaman, the individual must undergo a rite of passage or initiation. When that person is able to complete the initiation, only then do they become a shaman.. "a man to whom all paths are known."
What is a Shamanic Practitioner & What Do They Do?
The etymology of the word "shaman" comes from the Siberian Tungus tribe. It loosely translates to "spiritual healer," or, "the one who sees in the dark." 
Being bestowed the title of Shamanism comes with great responsibility. Not only do they access alternate worlds and dimensions where they commune with other beings, but they also must possess the ability to transform everything they have learned and experienced from the other side, into real spiritual practice in the physical world around them.
They must have the knowledge and the mental fortitude to retain and apply all the wisdom they obtain from the spirit realm, in order to heal and transform beings in the physical realm. This is what greatly differentiates shamans from other spiritual teachers and healers. For example, a psychic or a medium may be able to access these spirit realms, but they often lack the ability to take physical action while there. A well trained Wiccan or Pagan may also be able to take physical action on the other side while in an altered state of mind, but in most circumstances, their focus is upon gaining knowledge or communicating with beings on the other side, and they may not necessarily focus on healing.
Shamans also act as teachers, storytellers, or record keepers, because they also teach that literally everything is spirited. They teach that all things are interconnected, alive, and conscious. This includes the rocks under your feet, the plants, the stars in the sky, the moon,  the Earth itself, and even the wind in the air. For this reason, it is also extremely important that the shaman's role in the community be one that promotes, demonstrates, and maintains the delicate balance between humanity, nature, and spirit.
While many individuals of various religious practices all over the world may practice shamanism, it's important to note that not all shamans are part of organized religion. Although most shamans in some ways act as teachers, many shamanic healers do not consider shamanism to be a religion. They feel this way because, within shamanism, no single founder or leader, there are no rules, no dogmas, and no sacred texts to copy down.
What Is Shamanism Healing?
Shamanism is about us all being connected, it can benefit your health and wellbeing by tackling diseases, imbalances, in a partnership with botanical medicines (such as ayahuasca), diet changes and other types of therapy. Due to shamanic healing being tailored to each individual person and their unique illness, there has been little interest in providing any financial support to find research within this practice.
What Is An Example Of Shamanism In The Real World?
Even today, Shamanism is still quite common practice in areas like Siberia, Scandinavia, Tibet, Mongolia, Alaska, Canada, Korea and the Amazon. In these remote regions, shamans are usually a bit more in the traditional sense.

That being said, the definition of shamanism has gotten a bit looser over recent years. Modern Shamanism has shifted into a new form often called Neoshamanism. Neoshamanism is what refers to "new age" modern forms of shamanism. This includes several various methods of experiencing visions and/or healing oneself or others.


According to Wikipedia: "Neoshamanism comprises an eclectic range of beliefs and practices that involve attempts to attain altered states and communicate with a spirit world. Neoshamanic systems may not resemble traditional forms of shamanism. Some have been invented by individual practitioners, though many borrow or gain inspiration from a variety of different indigenous cultures. In particular, indigenous cultures of the Americas have been influential."
Key takeaways
Shamanic traditions, shamanic studies, shamanic training, and shamanic journeying, are all useful ways people can embrace and pursue shamanic practice. They are a powerful tool to heal and learn about the ways of the Universe. 
What are the beliefs of shamanism?
Shamanism is a religious practice and belief system that involves a practitioner, a shaman, who is believed to interact with a spirit world through altered states of consciousness, such as trance. The goal of this is usually to direct these spirits or spiritual energies into the physical world, for healing or some other purpose.
What religions have shamans?
Shamanism is likely the oldest spiritual practice on earth, so in a way, all religions have at least some of their roots in Shamanic cultures. 
Do shamans get married?
Yes they do. Shamanism is a spiritual practice without dogma. Therefor, there is nothing that prohibits most Shamans from getting married. That being said, some traditionally held shamanic cultures do frown upon marriage. Buddhist shamans in Northern Asia are an example of this.
Post Written by: Lara Starr
Laura's Facebook

Resources:
https://www.carvedculture.com/blogs/articles/what-is-shamanism https://en.wikipedia.org/wiki/Neoshamanism 
https://geriatrics.stanford.edu/ethnomed/hmong/fund/spiritual_illnesses/shaman.html 
https://blog.mindvalley.com/shamanic-healing/