Many people believe crystals to contain healing properties. Each and every crystal contains its own special "magic" – helping your body and mind in different ways. Believe it or not, but, crystal healing has been around since the dawn of time. And, the trend, for modern people, rose to popularity in the 70s. Recently, crystals have made a bigger comeback than ever, as more and more people learn about how wonderful the power of these stones can be!
Crystals, consciousness and crystal energy
I take great notice of that which I'm attracted to in life. There's certainly a lot of attraction to people and conversations because that is part of the human experience. You can also have an attraction to things that are not human, like stones, flowers, crystals, or something that typically does not have a consciousness. There is nothing that I can truly and accurately describe the attraction I feel to crystals – particularly clear quartz. 
It started when I was about six or seven years old and, continued with me throughout school. My third-grade science fair project was growing crystals – I was attracted to how they grew and how they shimmered in the light. Now, as an adult, that attraction is still there – in the very foundation of the crystal's formation. I've realized when you think about crystal information when it is entering the place of matter which relaxes into an alternate state of composition. When matter is in this state, there is an optimal way by which energy flows with that particular crystal, hence the different attractions and reactions we get. This energy flow connects with us, we can feel it. 
The youth and crystals
It has been interesting to note that the younger generations are getting more attraction than the older ones. I think this is an extremely positive thing happening with humanity. I do believe the reason for this is because they are much more attracted to psychedelic experiences and the connection to their soul being able to openly and freely express themselves. The older generations had to deal with a lot more repression of expression. There was a brief moment in our timeline, during the hippy generation of the 1960s, where expression was extremely popular.
The later years changed that aspect and more repression came about until today, where it seems like we have made a full circle back to the freedom of expression. There seems to be a lot of similarities of interest from then and now, including the festival scene which plays electronic psychedelic music, like trance. In essence, this music puts you into a trance-like state through which people, like those in the younger generations, can connect with nature, other people, and their consciousness. Some have started using crystals and other forms similar to explore their consciousness.
Crystals and QHHT Past Life Regression
The power of crystals has been celebrated across cultures over the globe, as well as for many different societies over the timeline of humanity. From my experience, during QHHT sessions with a few clients, a common thing I would hear of them talking about wearing their crystalline clothing. This clothing can adjust our body to the perfect temperature, according to the weather. It also has the ability to change color to match our aura and our frequency so that we can show expression to others without speaking. Increasing our buoyancy so that they could manipulate the effects of gravity in different circumstances.
Atlantis and crystals
During the time of Lemuria and Atlantis, the people living there used crystals lovingly. They were highly aware of the power of crystals and had worked out a way to use them alongside their technology. It would increase the strength of the power they received from natural resources like the sun, wind, or the ocean. They transmitted the crystal power via the pyramids they built and that transmission powered a number of their machinery like spiritual growth, agriculture, and even transportation.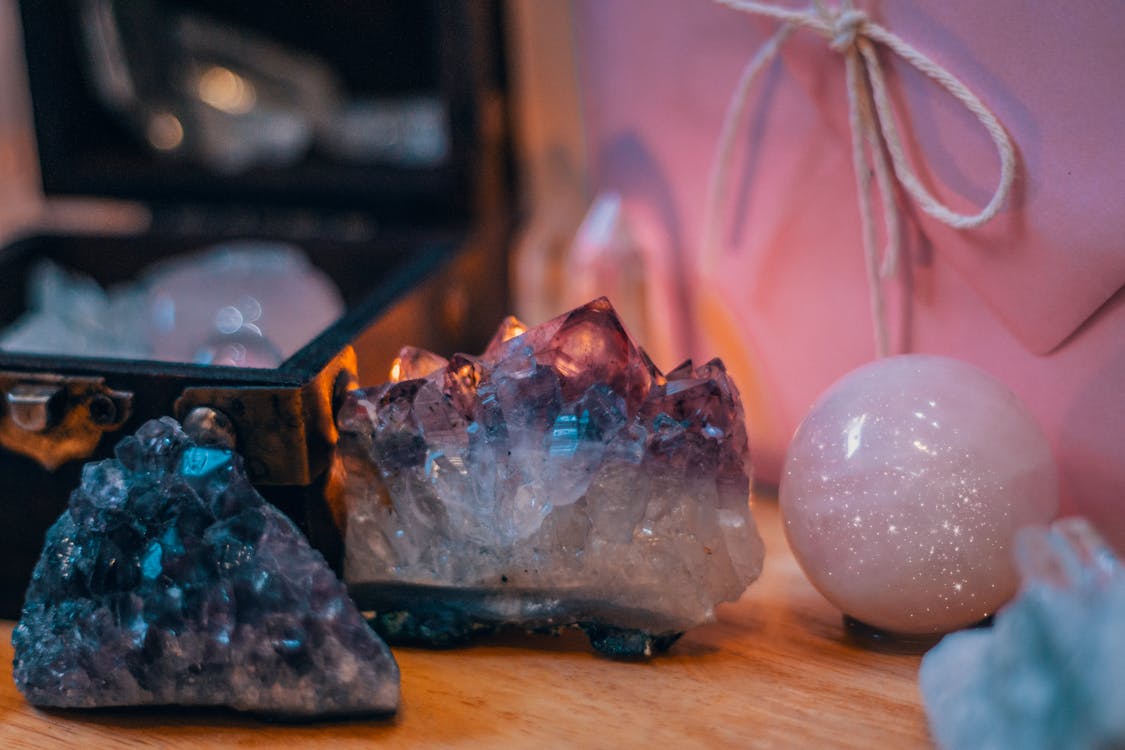 Once, during a QHHT session with someone that I had shared another life with Atlantis. This person did crystal grid work and I worked alongside her at the Temple of the Moon. I was able to bring in energy to be grounded into the earth to heal it. We were able to store that energy into the crystals, kind of like batteries, to be used later on. Those charged crystals would be placed in crystal grids, placed deliberately in a sequence according to their properties. These grids would be energy flows
The more spiritually advanced Atlanteans were able to foresee what was going to happen to them as a society so they stored all of their knowledge, Atlantean star codes, inside of them. Those who found them within our timeline would be able to access that knowledge. So ultimately, we did this for ourselves. If you are attracted to a crystal, it probably means there is knowledge stored inside of it specifically for you, left possibly by a past-life self. The law of attraction will bring them to you – you just need to be open and ready to accept.
Similarities between ice and crystals
If we look at the formation of crystals, there is not much difference in how ice is formed. If you think of a snowflake or water formation and that crystalline structure. The delicacy of each snowflake is so intricately beautiful, each one being unique. It is almost as if it is a euphemism of us as unique human beings. This leads us to the treasure trove of information about the true history of the world that is hidden in the ice of Antarctica. It is particularly significant the more our technology progresses and until we are at a point where we might not even need technology and we become more intuitive like the Atlanteans. So much of our history was lost to us but, like the Atlanteans storing information in crystals, so much of our history is stored in the ice of Antarctica and rocks! 
Our trip to Egypt showed us that their history was recorded on the outside of rocks in so much detail. But just like how we, humans, have a meaningful exterior as well as a meaningful interior, as do the rocks. There is more information recorded inside them.
The message that crystals carry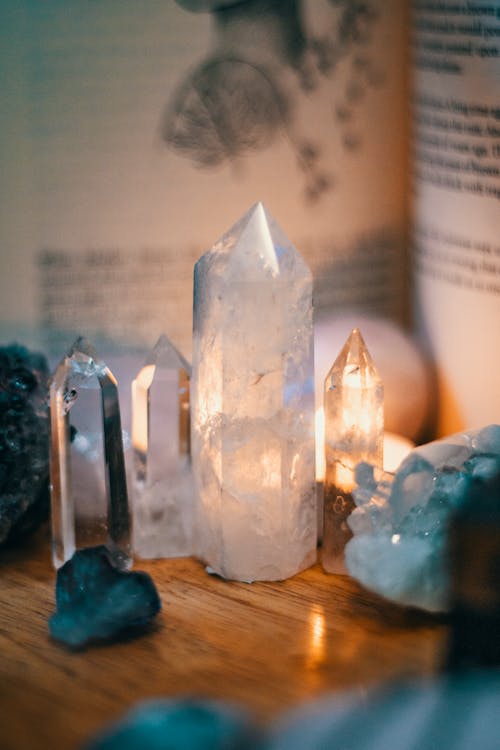 In life, it is so much easier to believe that life is getting harder, particularly when we are fed all of this negative information all the time in the media – crime is increasing, the dollar is decreasing, it can be easy to feel a sense of panic, no matter how big or small. Do not buy into that. Look at how things are affecting you, how you feel inside, how you manage your relationships, your ability to express love and joy or communicate with others.
The crystals, I feel, want us to know that it is getting easier and easier, and it will only get easier and easier as we progress into that fifth-dimensional version of ourselves. You do not need to be affected by outside things that contrast your belief system. Much like how the crystals work with their energy to amplify the energy they receive, is what we should be tapping into ourselves. 
Final Thoughts
Our opinions and appreciations will vary amongst every one of us – it is different for everybody. I realized that the unique feeling, connection, and attraction feels beautiful then that's what is right for you. There is no one correct way to draw on the power of crystals, they have information stored inside them that is particularly for you. So if you feel like a certain stone is calling out your name, pay attention to that. The more open you are to receiving the information, the more knowledgeable you will become.
Interested in becoming a QHHT Practitioner?
Find out how YOU can become a QHHT Practitioner. We offer an entire online course journey to get you started, growing, and achieving your goals.
"The purpose of my life is to be a vivacious and highly abundant business and spiritual maverick. Bringing the highest level of consciousness into the world for the greatest good."
Have you ever felt disconnected from a particular sign in your natal chart but you were never sure why? This might be because of a misunderstanding of how your past life is connected to your natal chart. Past life astrology is a perfect way for you to answer those undying questions n the reasons for your…Read More»
Many people believe crystals to contain healing properties.Each and every crystal contains its own special "magic" – helping your body and mind in different ways. Believe it or not, but, crystal healing has been around since the dawn of time. And, the trend, for modern people, rose to popularity in the 70s. Recently, crystals…Read More»