Reiki is originally a Japanese term that can be translated directly to "Spiritually guided life force". In this article, we will discuss the importance of understanding the meaning of each reiki symbol and how they can be used to enhance your practice.
What are Reiki symbols?
Firstly, what is reiki? The reiki practice is based on healing energies. These energies are enhanced by different symbols for specific outcomes – they act as amplifiers and a means of channeling energy.
24 Reiki symbols and their meanings
Reiki had a few different systems containing different symbols in each. Each reiki symbol's meaning differs in meaning but not in importance. This article will discuss all reiki symbols available in the spiritual practice and how to use reiki symbols properly.
Usui Reiki symbols
These five symbols are the starting blocks for all reiki practitioners. The Usui reiki symbol meanings vary between each symbol, but they all represent the basic principles of connecting with yourself and all the phases of doing so. All reiki masters must learn this first to reach higher levels of the practice.
Hon Sha Ze Sho Nen: The distance symbol.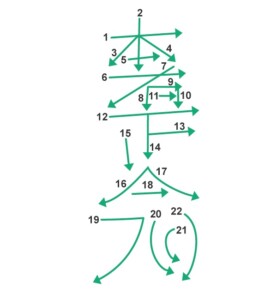 Credit: ReikiScoop.com
Diving into the deep end, we start with the most difficult of all the reiki symbols to grasp. Ultimately, Hon Sha zo sho nen means, "having no present, past, or future". It has the ability to not change the past in terms of traumatic events, but to enable you to learn from it – to rewire your thoughts on the event. Reiki masters can use this symbol to send out love and protection towards any events in the future which may or may not turn out undesirably.
What does the Hon Sha Ze Sho Nen symbol mean?
Ultimately, Hon Sha zo sho nen means, "having no present, past, or future".
How to use the Hon Sha Ze Sho Nen symbol
This symbol is taught to a reiki master in training once they reach the advanced level of Reiki attunement. It held in the highest regard and thought to be one of the most powerful of all Reiki symbols – great care must be taken to use it correctly. In order to use distance healing and bring healing energy towards your past and future experiences, it is advised to use the symbol on a daily basis.
Sei he ki: The harmony symbol.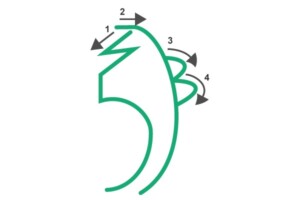 Credit: ReikiScoop.com
Not only is the Sei he ki symbol considered a harmony symbol, but it is also used for protection. This symbol looks like either the wing of a bird or a wave crashing on a beach. it is perfect whenever you are in need of balancing your emotions and thoughts or a general purification. It can also be USD to bring balance between the left and right sides of your brain.
What does the Sei he ki symbol mean?
The meaning of Sei he ki is, "God and man become one" and it is known as the mental or emotional symbol.
How to use the Sei He Ki symbol
This symbol is a level two achievement. It can be used as a study aid because it can help you retain the information you read for weeks after. This symbol's activation is imagining it above your head if done visually.
headaches are often caused by ill thoughts or negative energy in general. this symbol can be used to rid yourself of those thoughts, thus the headaches.
As this symbol is great for the purification of thoughts and feelings, it is great for banishing addictions or bad habits that come from that negative energy. You will trust and love yourself more if you visualize this symbol surrounding you.
Cho Ku Rei: The power symbol.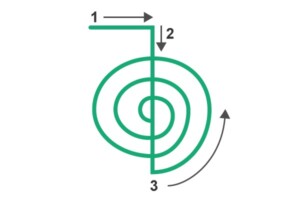 Credit: ReikiScoop.com
The Cho Ku Rei symbol looks like a coil that can be drawn clockwise or counterclockwise. This symbol is used to heighten power a lower it. When a reiki practitioner activates this symbol they able more able to channel energy in their reiki principles and practice as well as bringing in more energy flow.
What does the Cho Ku rei symbol mean?
This symbol represents your chi, which means the vital force within all life.
How to use the Cho Ku rei symbol
Cho KuRei is a level two symbol and is used to boost energy to your reiki sessions. It is used for physical healing for things such as aches and pains from serious or light injuries. You can also use this symbol to bring negative and stagnant energy into a positive flow. You can do this by displaying Cho Ku Rei in specific or all rooms of your home.
If your relationship or work ethics need some assistance this symbol is perfect. Visualize it in your mind before you start any serious conversations with your partner, or going in for a job interview or a meeting at work.
Dai ko myo: The master symbol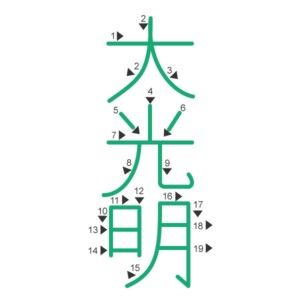 Credit: ReikiScoop.com
This symbol may not be the most powerful symbol but it is considered to be the most sacred. Also known as the empowerment symbol, Dai ko Myo's healing power has the highest vibration making it nourishing and full of enlightenment. It is used in your spiritual practice to send energy to your auric field and attune one into Reiki. This healing symbol encompasses all that is reiki energy. Focusing on healing the upper chakras, aura, and soul as one.
What does the Dai ko myo symbol mean?
The Dai ko myo symbol either means; "great shining light", or; "great enlightenment". "Dai" means big or great, "ko" means glossy or shiny, and "myo" is the word for Light or star.
How to use the Dai ko myo symbol
All Reiki practitioners may receive this symbol for attunement – all levels are accepted. Dai ko Myo is known as the master symbol because of its high vibration. It is more effective when combined with the other symbols. It creates energy flow throughout your body, boosting your immune system by clearing away negative blockages in your chakras. A Reiki practitioner will activate the symbol by drawing it with their third eye or your finger, visualizing it, tracing it on the center of your palm, or by spelling out the letters three times.
Raku: The completion symbol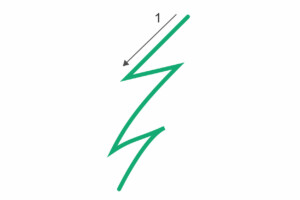 Credit: ReikiScoop.com
Raku is the last symbol you will learn on your Reiki. It has a striking resemblance to a lightning bolt and is drawn from top to bottom is said to be a representative of the life force energy, or your chi, which runs down your spine. There are those who believe this symbol was originally a Tibetan Symbol, its origin is a vague story.
What does the Raku symbol mean?
Pronounced Ray-koo, this symbol is known as the fire serpent.
How to use the Raku symbol
Much like how savasana helps you integrate the benefits of your yoga session once it's finished, Raku is only used once you have achieved attunement, or after a healing session, in order to ground yourself and absorb all of the reiki benefits. Raku can also be used during a healing session by a skilled reiki master to remove negative energies from their client, with great caution. In fact, the Raku symbol is even said to remove kidney stones.
The Raku symbol is activated by visualizing it in a bright violet or pink color, looking similar to a laser over the problem area.
Karuna Reiki symbols
Karuna energy's main purpose is to "ending the suffering of others".  It is a compassionate characteristic of pure intention to eradicate suffering in humanity and all living things. Karuna reiki is the evolutionary result of Usui reiki and is comprised of eight symbols.
Om
Credit: ReikiScoop.com
Also spelled Aum, this symbol encompasses the energy of life, of the earth, and the universe. It is the energy to which we return, the vibration of the creation of all that is.
What does the Om symbol mean?
Om, or aum, is representative of the four levels of consciousness. "A" being awakened, "U" being the subtle body or dream state, "M" being your subconscious state. The syllable is a silent one which is representative of the ultimate consciousness.
How to use the Om symbol
Om can be used at any level of your reiki practice. It can be used to purify your aura, open your connection to higher consciousness.
Shanti
Credit: ReikiScoop.com
Shanti is the greatest symbol to use in manifesting your needs and desires. When combined with the Kriya or  Rama symbols it has benefits in actualizing your goals as it helps us release any insecurities.
What does the Shanti symbol mean?
The Shanti symbol means peace in Hindi. It means to be accepting and loving unconditionally of yourself and others. It means to "heal the past, release the future and bring harmony to the present."
How to use the Shanti symbol
The Shanti Symbol is visualized and drawn over the solar plexus chakra. It can be used to eradicate sleeplessness, chronic fatigue, and even anxiety.
Halu
Credit: ReikiScoop.com
This symbol is a more intense version of the Zonar Symbol with the added pyramid symbol (which is the zonar symbol) on top. It has amazing abilities to protect, heal, ad restore balance mentally and emotionally.
What does the Halu symbol mean?
Halu means clarity and protection. It also means harmony.
How to use the Halu symbol
This is a level two reiki symbol and must be visualized or drawn on every one of your chakras before you sleep or meditate. This can help to prevent any repetitive negative subconscious thoughts.
Rama
Credit: ReikiScoop.com
The Rama Symbol represents bliss, happiness, and pure joy. It is a grounding symbol as it connects you to the earth's energy.
What does the Rama symbol mean?
Rama means Lord Rama or God and represents the bonding between female and male energies which are representative of the two right flicks on both sides of the symbol.
How to use the Rama symbol
This symbol should be visualized in gold or purple colors. it is the best used to cleanse all six of your chakras, especially your lower ones. It can help you to revive your chi and manifest any materialistic goals you may desire or need.
Kriya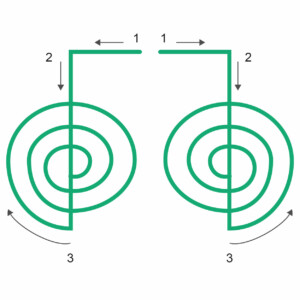 Credit: ReikiScoop.com
The Kriya symbol looks like the Cho Ku rei symbol mirrored. the one on the left going anticlockwise represents masculine energy and the one on the right going in a clockwise spiral represents feminine energy. This symbol helps us to prioritize our needs with each decision, knowing our freedom of choice.
What does the Kriya symbol mean?
The Kriya healing symbol means the manifestation of your materialistic desires.
How to use the Kriya symbol
This symbol is used to manifest your desires and head and broken relationships within your family, ensuring peace within your home. Visualize or draw this symbol from your quads to the floor, this is grounding in nature as it helps you to connect with the earth.
Harth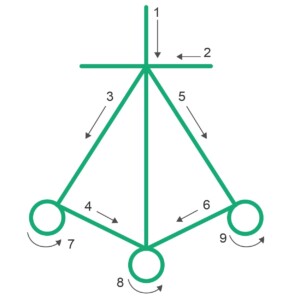 Credit: ReikiScoop.com
This is one of the most honored symbols of the Karuna Reiki symbols. This symbol is primarily for all ailments of the heart, physically or emotionally. It can show us how less expectation equals more happiness and less disappointment.
What does the Harth symbol mean?
Harth means unconditional and compassionate love.
How to use the Harth symbol
This symbol is used to help us understand and live with unconditional love and compassionate natures. Harth can be used to increase or develop self-love by allowing us to understand we have all the answers and love within us.
Gnosa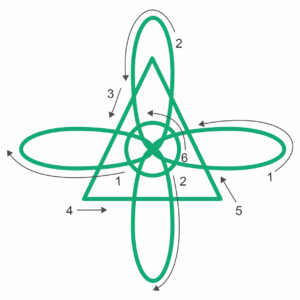 Credit: ReikiScoop.com
This is a magnificently beautiful symbol that brings you closer to your higher self and subconscious thoughts. it can bring to light the root reasons for certain traumas which are causing pain.
What does the Gnosa symbol mean?
The symbol Gnosa means to have awareness and peace of mind.
How to use the Gnosa symbol
The symbol Gnosa can be used when you are studying for exams as a student or preparing to pitch your latest idea at work as it helps to clear your mind and improve the quality of your communication. It can also help your physical endurance and hand-eye coordination.
Iava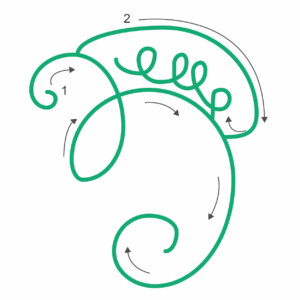 Credit: ReikiScoop.com
This symbol is representative of independence. It is reminiscent of individuality and that we are our own narrators. It shows us the
What does the Iava symbol mean?
The Iava symbol means personal empowerment and independence. It means that you are responsible for yourself and you should not be swayed by any opinions other than your own.
How to use the Iava symbol
Iava is a great tool in removing the ego thus helping to remove or get over any addictions. It is used to ignite your motivation and personal dependency which improves your self-efficacy in the long run
Shamballa Reiki symbols
'Shamballa' refers to a mythical realm that exists in another dimension or within our inner Earth. It's considered that spiritual and technological beings that exist within the realm that come to help us when we need it the most."
One can only access the Shamballa reiki symbols power through deep and regularly practiced meditation. It promises some of the highest and most powerful energies known to mankind, but it is comprised of over 300 symbols so its full potential is not realized by many people. Below is a list of the most prominent of the symbols.
Mer Ka Fa Ka Lish Ma
Credit: ReikiScoop.com
Mer Ka Fa Ka Lish Ma symbolizes the divine mother of all, like that of Gaia. It
What does Mer Ka Fa Ka Lish Ma symbol mean?
This symbol, Mer Ka Fa Ka Lish Ma means to lift your consciousness to a higher vibration.
How to use Mer Ka Fa Ka Lish Ma symbol
This symbol is learned at level two of this reiki system but in no particular order.
Must visualize the symbol into your energy's vibration.
This symbol can be activated by tracing it on your palm or visualizing it on your back, connecting your shoulders.
Palm Master symbol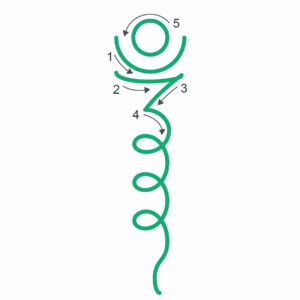 Credit: ReikiScoop.com
This is known to be a Tibetan symbol, but it is said that it has been affiliated with the ancient and lost city of Atlantis. Once this symbol is activated your subtle and physical bodies are at one wit the energetic forces of the earth and the universe.
What does the Palm Master symbol mean?
This symbol means to connect you with your higher consciousness.
How to use the Palm Master symbol
You will only be able to work with this symbol at level three of Shamballa Reiki.
It can be used to ring you to higher consciousness.
It can be used in practice by drawing or training the symbol over your whole body and imagine yourself becoming one with it.
Ho Ka O ili ili
Credit: ReikiScoop.com
Ho ka O ili ili has a unique vibration that stands out among the other symbols. Not much is known of the origin of this symbol, but there is talk of it coming from the Pacific coast, due to its tribal-sounding name.
What does the Ho Ka O ili ili symbol mean?
This symbol means the emphasis on self-love, respect, confidence, and honor. Using this symbol will help you gain respect and be respectful of others.
How to use the Ho Ka O ili ili symbol
This is a level three reiki symbol
This symbol can be used to attract confidence in a respectful and harmonious manner
This symbol must be drawn in a specific order visualizing each word with a specific part of the symbol and sounding it out loud or in your head.

Ho – for the line starting top left to bottom right
Ka –  for the line starting top right to bottom left
O – the first dot at the top
Ili – the second dot in the middle
Ili – the last dot at the bottom
Motor Zanon
In terms of reiki symbols having the ability to remove any bacteria or viruses from our bodies, there are some skeptics, even among reiki masters. But, there are still those who believe that Motor Zanon is the sole symbol able to remove such things.
What does the Motor Zanon symbol mean?
Motor Zanon means the cleansing of your body and protecting it from any infections by raising your vibration
How to use the Motor Zanon symbol
Motor Zanon is taught at level two of Reiki.
Focus your intention on the problem area of your body and draw or trace these three symbols in this sequence whilst chanting the names as you race each symbol. Repeat three times.
Amsui
Amsui was originated in The great city of Atlantis and was created to connect ourselves to our higher self, thus raising our awareness so we can help protect and help our planet.
What does the Motor Zanon symbol mean?
This symbol means completion.
How to use the Motor Zanon symbol
This is a level three Reiki symbol.
This symbol should be activated prior to your self-healing or treatment, as well as after, in order to balance your chakras.
By drawing it on your crown chakra you will enable better harmonize with your self-treatment.
Drawing Motor Zanon in the middle of the room will connect you more to divine powers, or the universal source.
Where do reiki signs come from?
There is a lot of thought in the reiki word that it originates from India but in fact, It can be traced back to a Japanese Spiritual Teacher, Mikau Usui during the 1920s. During this time there were a lot of Buddhist, Shinto, and Taoist influences in Japan.
Key takeaways
With this newfound abundance of knowledge over Reiki and the symbols used throughout your practice, you should be able to understand which symbol would be the best for you. The Reiki symbol meanings might be helpful, but we do advise seeking out a skilled and professional Reiki master or practitioner to help remove anything serious from your physical or subtle body.
FAQs
Are reiki symbols necessary?
They are not necessary but they can help in enhancing the power of your reiki healing. They also act as energy channelers, enabling you to more accurately channel energy out of the body and in.
Do you have to use reiki symbols?
It is not necessary to always use the reiki symbols. They act as a way to help focus your attention on what your are treating but you do not need them a lot of Reiki practitioners no longer use the symbols, preferring to allow the energy to act on its own will. The universe and divine energies know what to do and with the right intention, reiki healing alone is enough.
Can anyone use Reiki symbols?
There are those who believe that the only rule in Reiki is that there are no rules. Anyone can use the reiki symbols because they're so readily available online. But it is important to know that there are different levels of training and it's a matter of safety and protection for yourself and the person you are treating. There are people who believe that only your reiki teacher or master can best the ability to use certain symbols once you have attuned. Therefore, it is not a matter of "can" I use Reiki symbols… but should I?
Do reiki symbols work?
There is no scientific research to back up and prove that reiki symbols work but there are accounts all over the internet of people claiming the symbols' miracle effects. It is up to you to decide if they work for you or not.
Become Certified in Past Life Regression and more with QHHT
Find out how YOU can become a QHHT Practitioner. We offer an entire online course journey to get you started, growing, and achieving your goals.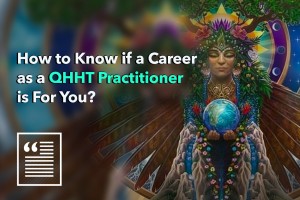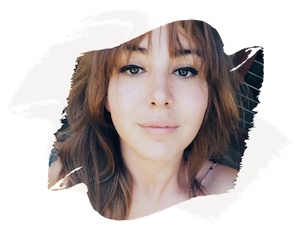 I am a creative and a wanderer. Mysteries and connections are what inspire me to write. While on my path, my purpose is to bring you information to help inspire you on your journey on this place called earth.
Hypnosis has not always had the best stigma in and amongst mental health professionals. In the past it has been confused with stage hypnosis, which is not the same thing at all. If you are curious to know what you might be able to benefit from by undergoing hypnotherapy, then take a look at…Read More»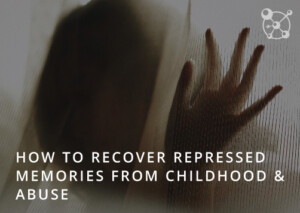 Have you ever found yourself avoiding certain situations without having a specific reason for it? Maybe you have noticed behavioral patterns that make no sense to you. You probably have some repressed memories hidden somewhere within your mind, and by the end of this article you will know…Read More»