Mindfulness is being in the present moment, paying attention to where we are, our physical sensations, and the environment around us, without judgment and complete acceptance of reality as it stands in the here and now. We live busy lives in an increasingly busy world and seldom realize that we are doing one thing and thinking about another, or several other things in a row. We could be writing a memo at work when we get distracted, thinking about our shopping list for dinner, or what gift to get for a friend. Being in the present moment slows time. By focusing on one task at a time before starting the next one, we reduce our levels of stress and depression and increase our feeling of well-being.
Once we start practicing mindfulness, we soon become aware of its value, the benefits of mindfulness, and its importance to our health and well-being.
Why is mindfulness important?
Practicing mindfulness can play an important role in improving our overall health and lives. Research shows positive results can occur soon after starting mindfulness techniques and be beneficial to our emotional, mental, and physical health.
Being mindful can help us focus our attention on the moment and observe our feelings without making judgments, enabling us to keep our emotions in check and lessen our levels of stress, anxiety, and depression. As a result, we'll improve our communication and decision-making skills, increase our self-esteem, be more positive and happier. Our professional and everyday lives, including our relationships in both, are also likely to improve.
What are the benefits of mindfulness? Here are 8 scientific health benefits:
The objective of practicing mindfulness is to keep our minds focused on the here and now and let go of distracting thoughts without acknowledging them. Our minds and our bodies will become calm and relaxed, decrease our stress levels which in turn can lower our risk of heart disease and high blood pressure, help us manage pain better, and improve our sleep.
Dr. John Denninger, director of research at the Harvard-affiliated Benson-Henry Institute for Mind Body Medicine at Massachusetts General Hospital, said: "Not only can meditation improve how your heart functions, but regular practice can enhance your outlook on life and motivate you to maintain many heart-healthy behaviors, like following a proper diet, getting adequate sleep, and keeping up regular exercise."
Mental health benefits of mindfulness (How does mindfulness affect the brain?)
1.  Improved attention
Research has found that meditation training over just four days can result in an increased attention span, focus, working memory, mental agility, and alertness. It also showed an increase in executive functioning, visuospatial processing, and mindfulness, as well as a reduction in anxiety and fatigue.
2. Regulate stress and anxiety
We are living our lives in the fast lane, under pressure to do more and better at home and work, resulting in higher levels of stress, anxiety, and depression, worldwide. By practicing mindfulness meditation regularly, we can help manage and reduce the effects of stress on the mind and body, an important step towards better health and well-being. 
According to a review of 47 clinical trials, mindfulness meditation programs showed "small improvements in stress/distress and the mental health component of health-related quality of life."  Yet another study found that practicing mindfulness can reduce levels of cortisol, the stress, or "fight or flight" hormone.
3. Growing brain
MRI scans have enabled scientists to observe how the brain changes from before, shortly after, and at predetermined intervals after people first started practicing mindfulness. Evidence shows that particular areas of the brain may shrink or grow with regular mindfulness practice.
For example, the grey matter in the brain's amygdala, responsible for stress, became less active and could shrink. The grey matter in the brain's pre-frontal cortex had shown increased activity and may become thicker. This area is responsible for planning, problem-solving, emotions, and creativity. The hippocampus the center of our memory and learning could also experience growth with increased activity. 
4. Slower cognitive decline
Studies have already shown that regular practice of mindfulness meditation and reduced stress levels can bring about positive changes to the brain.
A 2010-2011 pilot study at Beth Israel Deaconess Medical Center on healthy subjects with Mild Cognitive Impairment (MCI) and Alzheimer's disease suggests that positive changes to the brain could assist in slowing the progression of age-related cognitive disorders.
After an 8-week Mindfulness-Based Stress Reduction (MBSR) program of those who took part in the program showed less cognitive decline compared to those who did not participate in the program. The participants in the MBSR program also reported increased levels of well-being.
Physical benefits of mindfulness (How does mindfulness affect the body?)
1. Maintain heart health
Studies have shown that practicing meditation daily can improve blood circulation, lower the heart rate and blood pressure, and help maintain a healthy heart. Furthermore, a study published by  Psychosomatic Medicine indicates that regular meditators often have lower levels of lipid peroxide compared to non-meditators. Lipid peroxide is a compound that binds with fats and cholesterol to form a plaque build-up in and on artery walls, and restricting blood flow, resulting in atherosclerosis. Plaque build-up can block blood flow completely, or the plaque ruptures and causes a blood clot, which can happen anywhere in the body.
2. Stronger immune system
Our immune system plays a crucial role in our body, without which we won't survive for long. This intricate system consists of an immeasurable number of biological processes and structures with only one function, to fight disease and protect us from foreign organisms. A 2003 study at the University of Wisconsin-Madison showed that regular practice of mindfulness seemed to strengthen the functions of the immune system and also promotes long term positive changes within the brain.
3. Manage chronic pain
Millions of people worldwide suffer from chronic pain, be it from long-term debilitating conditions such as cancer, fibromyalgia, and arthritis, or an injury after an accident, to injured veterans struggling with post-traumatic stress syndrome (PTSD). The answer to reducing their need for pain medication may be through the use of ancient techniques such as meditation, deep breathing, yoga, tai chi, or variations thereof.
We all experience and feel pain differently, influenced by our genetics, emotions, personality, or experience in the past. Research suggests that since both the mind and body are involved in pain, mind-body therapies may reduce pain by changing the way we perceive pain.
Research is currently focused on finding alternative ways of managing chronic pain and supplementary methods to reduce total dependence on pain medication.
4. Mindfulness in education
Mindfulness programs have been part of the curriculum in many schools across the world for several years, and more schools are signing up to introduce mindfulness programs to their students.
Mindfulness in schools can help by improving academic results, increasing children's mental health, and encouraging resilience and character building. 
ClassDojo conducted a survey in the U.S., U.K., and Australia in which 3,000 parents and 2,500 teachers participated in March 2019. The results were overwhelmingly in favor of mindfulness programs in schools. Several studies have shown how children benefit from mindfulness by reducing stress levels and other important. Numerous studies have shown how mindfulness helps children reduce their stress levels – as well as other benefits, such as developing their concentration and patience. Many schools have started focusing their energies and resources on strengthening these key elements and promoting overall well-being for their students.
Continued in-depth studies show positive results for both students and teachers in all levels of education. 
What are the spiritual benefits of mindfulness?
1. Self awareness
As we become more mindful, our physical, emotional, and intuitive senses become strong, and we can reach self-awareness and know and understand who we are.
Self-awareness is not about our looks, education, career, or status in society but an intuitive knowing of you. Our strengths, emotions, beliefs, motivation, and our weaknesses, acknowledging it all, and continue our spiritual journey.
Each person's spiritual journey is different, and there is no set path to follow. By tuning into our heightened senses, we will find the right path to take while our personal growth continues.
2. Unconditional love
As we continue our journey in the spirit of mindfulness, present in each moment, we can experience our world like never before. Vividly and joyfully, from the sand between our toes to the stars in the night sky. Our hearts and spirit, filled with unconditional love for our planet and all who dwell on her, including ourselves.
As our empathy and compassion increase, we would want to help the disenfranchised and save our planet, and perhaps our creativity will find a way for us to make a difference. On days where we are feeling lost in life – this unconditional self love can help lead the way. With each new step we take we embrace each moment with love in our hearts and joy in our souls, and our spiritual growth continues. 
Mindfulness benefits: Key takeaways
Since the 1970s, clinical psychology and psychiatry developed several therapeutic practices based on mindfulness to help people with a variety of psychological conditions. Over the decades, the practice of mindfulness has successfully helped sufferers to reduce depression, stress, and anxiety. With medical imaging technology, in particular, scientists can see the results of in-depth studies and the effects mindfulness has in the emotional, mental, and physical areas of the body.
Mindfulness programs are now also used in education, hospitals, VA centers, prisons, and elsewhere with overall positive outcomes for participants, and as an aid to healthy aging, weight management, athletic performance, and to help children with special needs.
For anyone looking to improve and maintain good health, practicing mindfulness would be a step in the right direction. From 10-minute breathing exercises focusing on the breath to combinations of mindfulness exercises and meditation, yoga, tai chi, and repetitive sport such as swimming, running and cycling.
Find the mindfulness techniques and other principles or combinations you would like to try and change them if they don't work for you. Even if you only do a few minutes daily, anywhere you happen to be is a step towards improving your quality of life.


FAQs
Does mindfulness actually work?
Mindfulness meditation has been practiced since ancient times by Buddhists and became popular in the western world and adapted to suit western culture, around the 1970s. Since then psychologists and neuroscientists have studied its effects on patients with some success shown in decreasing levels of stress and depression. With more recent advances in medical imaging, such as MRI scans, scientist have observed changes to brain function relating to reduced stress and depression, improved memory, recall and moods to name a few. 
What are the 4 foundations of mindfulness? 
The four foundations are: 1. Mindfulness of the body (the present moment), being fully aware of being in your body such as breathing, posture, and movement of and within the body; 2. Mindfulness of Feeling (vedana), paying attention to the senses, touch, smell, taste, sound and sight, for example: the feeling of a breeze on your skin, or hearing a dog bark and so on; 3. Mindfulness of Mind, being aware of thoughts and emotions without reacting to or judging them and just letting them go. This helps to calm your mind and lowers stress levels; 4. Mindfulness of Mental qualities (dharmas), paying attention to the complete experience, including any mental qualities that emerge.
What is an example of mindfulness?
Mindfulness is maintaining a moment-by-moment awareness of our thoughts, feelings, bodily sensations, and the surrounding environment. Without reacting or making judgement our thoughts remain in the present moment.
How quickly does mindfulness work?
 Practicing mindfulness is definitely not a quick fix and the more you practice mindfulness, the better the results may be. Studies have found that as little as 10-minutes of mindful breathing could lower stress levels. Regular mindfulness practice could provide longer lasting positive effects in emotional, mental and physical health. 
What is a mindful person?
Being mindful means being aware of your thoughts, sensations and emotions without reacting or judgment. Being more mindful and in the present moment without distraction enables you to enjoy the present, similar to the old quote: "Stop a moment and smell the roses".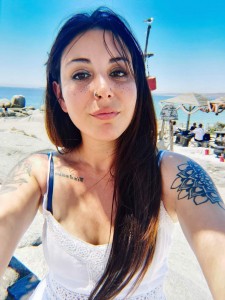 Written by:
Jade Small