Colors are more than something beautiful to look at. There is a psychological and spiritual factor behind every color. They influence our mood, our emotions, and even our physical well-being. From the fiery energy of red to the calming hues of blue, each color holds a unique spiritual significance that can enhance our understanding of ourselves and the world around us. In this article, we will explore the spiritual meanings of colors and how they can improve your spiritual practice.
The spiritual meaning of colors & symbolism explained
Have you ever walked into a room, and had your mood wholly altered from the moment you enter? Well, each color carries a vibration that can have an impact on how you think and feel. Understanding the spiritual meaning behind colors can help us connect more deeply with our own spiritual beliefs and practices, and even help us understand spiritual dreams. Here is a list of colors and their spiritual meaning.
1. The color blue spiritual meaning
What does the color blue mean spiritually? Well, when you look at the blue hues of the ocean, are you not filled with feelings of peace and tranquility? The spiritual meaning of blue holds deep significance to our spiritual practice because it brings harmony and balance to the eye of the beholder. The color blue helps you connect with your higher self, and form a clear line of communication.
The color blue is the color of our fifth chakra, the throat chakra, which is responsible for how we express ourselves. So, the color blue is associated with truth, and it helps you find your authenticity. If your throat chakra is blocked or not in alignment, it will inhibit your ability to communicate properly, and the color blue supports the throat chakra, helping us to speak our truth and communicate with others in a clear and honest way.  It is often associated with divinity and represents the infinite nature of the universe. This makes it ideal to meditate when surrounded by the color blue.
2. The color yellow spiritual meaning
The vibrant color of yellow will inspire warmth, joy, and happiness. What does the color yellow mean spiritually? Well, in some spiritual practices, yellow is seen as a symbol of hope, optimism, and enlightenment. It is believed that this color can bring joy and a sense of well-being to those who surround themselves with it. It is also the color of our Solar plexus chakra, which is responsible for our self-esteem and sense of confidence. When unbalanced, the solar plexus leaves us feeling insecure, with no willpower, and an inability to make decisions. Yellow can bring clarity to the mind, and enable logical thinking.
Yellow is ideal to use in classrooms, because of its ability to help us understand the world around us. The spiritual meaning of yellow represents the energy of the sun, which gives life to our world. It helps us connect with the natural world. It is the most eye-catching color in the color wheel, which is why we respond to its vibrancy so well. Additionally, yellow symbolizes cheerfulness, optimism, and confidence.
3. The color red spiritual meaning
"what does the color red mean spiritually" and "spiritual meaning of red"
The fiery color red can invoke feelings of passion, innovation, physical and emotional strength, and willpower. In some Wiccan rituals, healers use the color red to either bind something or banish it. It is the color of our root chakras, which are responsible for our emotional well-being. A blocked root chakra can leave one feeling insecure, fearful, and disconnected from your emotions.
So, what does the color red mean spiritually? Well, red is the color of love and passion. However, it can also symbolize intense emotions like anger. Hence the phrase, "seeing red," which means intense rage. Furthermore, red symbolizes strength, courage, and determination. It is believed that this color can bring a sense of empowerment, grounding, and connection to those who surround themselves with it.
4. The color green spiritual meaning
What does the color green mean spiritually? Green symbolizes luck, prosperity, renewal, and one's overall well-being. Additionally, the spiritual meaning of green is that it is used to keep one's health in top-notch condition. The heart Chakra is also the color green, which fits perfectly because the heart is where most of our healing energy comes from – love.
There is a reason why people say spending time in nature can be healing. Partly because the natural world has its own healing properties and also because there is a lot of greenery in nature. Energy workers use green in their healing sessions to restore their client's body, mind, and spirit to a harmonious balance. The spiritual meaning of green is also youth and fertility, so healers use green to promote pregnancy. It is also the color of luck and prosperity, so we can manifest abundance into our lives by surrounding ourselves with the color green.
5. The color orange spiritual meaning
What does the color orange mean spiritually? Well, Orange, or saffron, is another color that inspires warmth and gratitude. It is a combination of both red and yellow, and it is the color of our second chakra, the sacral chakra, which is responsible for our creativity, pleasure, sensuality, and our ability to create and maintain healthy relationships.
The spiritual meaning of orange for Buddhists is letting go of that which no longer serves you. Which is why the monks wear orange robes. It is associated with the element of fire, which is seen as a symbol of passion, transformation, and purification. It is believed that this color can help individuals to let go of old patterns and embrace new opportunities.
6. The color violet spiritual meaning
What does the color violet mean spiritually? Violet is often associated with the seventh chakra, or crown chakra, which is believed to be the center of spiritual enlightenment and connection to the universe. When this chakra is balanced, individuals may feel a sense of transcendence, unity, and spiritual awareness. Violet also symbolizes your intuition and a vivid imagination.
The spiritual meaning of violet is reserved for royalty, as throughout history nobles were seen wearing purple hues. Additionally, violet is said to activate or enhance your psychic abilities. In some spiritual traditions, violet represents the energy of spiritual transformation and transcendence. It is believed that this color can help individuals to connect with their higher selves, access their inner wisdom, and achieve spiritual enlightenment.
Spiritual color meaning chart
Sometimes having a visual makes things easier to understand. So, we made a chart that summarises all the information you read above. Here is a color wheel chart explaining the symbolism for each color.
Our conclusion on spiritual color meanings
As you can see, there is so much more to each color than just something pretty to look at. They not only influence our moods, but they can enhance our spirituality in remarkable ways. Just by understanding the different colors, we can better understand the journey we are on, and how to improve our quality of life.  Don't forget to try our color personality quiz!
Interested in becoming a QHHT Practitioner?
Find out how YOU can become a QHHT Practitioner. We offer an entire online course journey to get you started, growing, and achieving your goals.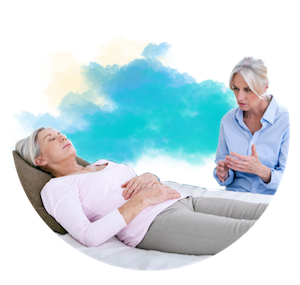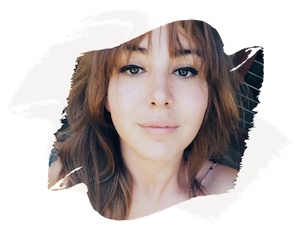 I am a creative and a wanderer. Mysteries and connections are what inspire me to write. While on my path, my purpose is to bring you information to help inspire you on your journey on this place called earth.
Spiritual love might sound like some new-age concept. But, in reality, it is the ultimate connection between two people. Today we are going to take a deep dive into this kind of divine connection. We will give our definition of what a spiritual relationship is, explain the difference between a romantic relationship and a spiritually inclined…Read More»
Society expects a lot from us. Starting thousands of years ago, genders were given certain roles to play, and our age is meant to define our way of living. Julia Cannon recently celebrated her birthday and was left with a realization that she certainly does not feel her age. However, this is a direct result…Read More»