In this article, we shall be discussing the angels of the old testament and what is described of them. It is often easy to believe that angels are beings that look human and have large wings, often dressed in all white robes. This is not exactly the case unless being visited within a dream by an angel. In reality, angels are much more obscure and frightening looking, only changing to a human form or a form of light in order to not scare the viewer. What do angels really look like? We shall be going in-depth about this topic to find out what the true forms of different angels are.
What do angels really look like?
The topic of angels has always been a mystical one. Sonnets have been devoted to describing their striking beauty and dazzling energy that comes with them. Artists throughout the middle ages and the renaissance depicted angels with beautiful, innocent, baby-like faces and skin texture with epic halos cascading light from the crown of their heads. Interestingly enough these depictions fall short of the descriptions of angels that we read in the old testament of the bible. The new testament follows the more expected belief, most likely changed to help people relate more to the idea of angels. So what does an angel look like? In the stories that mention angels in the bible, those who encountered them did not often give a description of what they saw. Most times the angel would say to them, "do not be afraid", which is a strange thing to say, especially coming from such an angelic creature that exudes light and beauty. If the angel suddenly appeared in front of the person it would be understandable for them to get a fright, but not to be perpetually terrified. It is hard not to lean towards the idea that angels' appearance is not all that comforting, but rather alarming. in order to bring some light to this topic, we are going to discuss in detail the different angels' descriptions, according to the bible. From there we will discuss what an angel's presence in your dreams might mean as well as real-life sightings of visitations from angelic beings and of those who have seen them in heaven from a near-death experience.
It is odd that angels are depicted in poetry and paintings as angelic and beauteous beings, determined to end suffering on earth when those depictions are contradicted by the descriptions in the bible. Why would such peace-bearing beings feel the need to carry a sword as did the angel from the 1st Chronicles and the Angel of the Lord in Numbers,
From the biblical descriptions available, Ezekiel 1 is by far the most detailed. Yes, he does mention that they resemble human beings yet nothing like us at all. Even though we are lead to believe these beings that visited him are angels, of some kind, yet Ezekiel referred to them as "living creatures".
What do angels look like in the bible?
In the modern era we all know angels to look like fair-faced men and women clad in all white with large white wings, holding harps, but this is not what they originally were stated to look like, according to the bible, what are angels supposed to look like? We shall be looking at the different types of angels mentioned within the bible and what the old testament had described of their appearance.
Cherubim
Cherubs are the most fondly depicted of the angels, this is often because people are lead to believe they are the cute, baby-like angels from paintings. Cupid is often thought to be a Cherub when he is actually the Roman god of love.  Those child angels from paintings are actually what's known as Putti angels. But Ezekiel has a more detailed description which is in high contrast to the innocent cubby-cheeked angels we have been misguided by.
"And this was their appearance: they had a human likeness, but each had four faces, and each of them had four wings. Their legs were straight, and the soles of their feet were like the sole of a calf's foot. And they sparkled like burnished bronze. Under their wings on their four sides, they had human hands. And the four had their faces and their wings thus: their wings touched one another.
Each one of them went straight forward, without turning as they went. As for the likeness of their faces, each had a human face. The four had the face of a lion on the right side, the four had the face of an ox on the left side, and the four had the face of an eagle.
Such were their faces. And their wings were spread out above. Each creature had two wings, each of which touched the wing of another, while two covered their bodies. And each went straight forward. Wherever the spirit would go, they went, without turning as they went.
As for the likeness of the living creatures, their appearance was like burning coals of fire, like the appearance of torches moving to and fro among the living creatures. And the fire was bright, and out of the fire went forth lightning. And the living creatures darted to and fro, like the appearance of a flash of lightning." – Ezekiel 1
What we know of the Cherubim is that they are the messengers of God. The word Cherub is the singular form, therefore cherubim are the plural for any cherub angels. They were designated as guardians of the garden of Eden as we learn from Genesis 3:24.
"So God drove the man out; and at the east of the Garden of Eden He permanently stationed the cherubim and the sword with the flashing blade which turned round and round in every direction to protect and guard the way (entrance, access) to the tree of life."
"These are the living beings that I saw beneath the God of Israel by the River Chebar; and I knew that they were cherubim. Each one had four faces and each one had four wings, and beneath their wings was the form of human hands. As for the likeness of their faces, they were the same faces whose appearance I had seen by the River Chebar. Each one went straight forward." – Ezekiel 10
Images of cherubim were sculpted onto the ark of the covenant. Within the ark were the ten commandments, written by God and held by Moses.
"The cherubim are to have their wings spread upward, overshadowing the cover with them. The cherubim are to face each other, looking toward the cover." – Exodus 25:20
Seraphim
Seraphim are rarely mentioned in the Bible. In fact, they are only mentioned in one chapter. Even though the word "Seraph" is not found, it is thought to be the singular form of Seraphim, therefore Seraphim is the plural for this type of angel. Angels are said to come in many forms and the seraphim's appearance is descriptive by their name which is the Hebrew word for "the burning ones" – literally and directly translated.
In the year that King Uzziah died, I saw the Lord sitting on a throne, high and lifted up, and the train of His robe filled the temple. 2 Above it stood seraphim; each one had six wings: with two he covered his face, with two he covered his feet, and with two he flew. 3 And one cried to another and said:
"Holy, holy, holy is the Lord of hosts; The whole earth is full of His glory!"
4 And the posts of the door were shaken by the voice of him who cried out, and the house was filled with smoke. 5 So I said: "Woe is me, for I am undone! Because I am a man of unclean lips, And I dwell in the midst of a people of unclean lips; For my eyes have seen the King, The Lord of hosts."
6 Then one of the seraphim flew to me, having in his hand a live coal which he had taken with the tongs from the altar. 7 And he touched my mouth with it, and said:
"Behold, this has touched your lips; Your iniquity is taken away, And your sin purged." 8 Also I heard the voice of the Lord, saying: "Whom shall I send, And who will go for Us?" Then I said, "Here am I! Send me."
9 And He said, "Go, and tell these people: 'Keep on hearing, but do not understand; Keep on seeing, but do not perceive.' 10 "Make the heart of these people dull, And their ears heavy, And shut their eyes; Lest they see with their eyes, And hear with their ears, And understand with their heart, And return and be healed." 11 Then I said, "Lord, how long?"
And He answered: "Until the cities are laid waste and without inhabitant, The houses are without a man, The land is utterly desolate, 12 The Lord has removed men far away, And the forsaken places are many in the midst of the land. 13 But yet a tenth will be in it, And will return and be for consuming, as a terebinth tree or as an oak, Whose stump remains when it is cut down. So the holy seed shall be its stump." – Isaiah 6
Common Angels
These are the worker bees of all the angels. Where the Cherubim guard the garden of Eden and the Seraphim reside mostly in the throne room of God. These angels do not seem to have any training, nor a need for it. Yet its does not diminish their power as they are still heavenly creatures made of God's power. Some say this type of angel is what we know as our guardian angels – whom we are usually more acquainted with as children, the daughters, and sons of God. Some say the more common angels are the guiding light towards the path of righteousness. This does seem to be the vaguest category of angels. they are mentioned all through the Bible's scripture but there are few actual descriptions of them. We think we will find out more once we have passed on from this life.
"Do not neglect to extend hospitality to strangers [especially among the family of believers—being friendly, cordial, and gracious, sharing the comforts of your home and doing your part generously], for by this some have entertained angels without knowing it." – Hebrews
Living Creatures
In the bible there are four living creatures, them being a lion, ox, eagle, and a man. They have been stated to have either four to six wings with eyes all over suggesting they are very alert and knowledgeable.
Also in front of the throne, there was what looked like a sea of glass, clear as crystal.
"In the center, around the throne, were four living creatures, and they were covered with eyes, in front, and in back. The first living creature was like a lion, the second was like an ox, the third had a face like a man, the fourth was like a flying eagle. Each of the four living creatures had six wings and was covered with eyes all around, even under its wings. Day and night they never stop saying:
"'Holy, holy, holy
is the Lord God Almighty,'
who was, and is, and is to come."
Whenever the living creatures give glory, honor, and thanks to him who sits on the throne and who lives forever and ever," –Revelation 4:6-9
Archangel
Archangel Gabriel is the only angel who was explicitly mentioned as an archangel yet many people believe there were two known to man. Angel Gabriel, though never directly mentioned as an archangel, was said to "stand in the presence of God", which seems to be a privilege not all angels get to appreciate.
"The angel replied and said to him, "I am Gabriel; I stand and minister in the very presence of God, and I have been sent by Him to speak to you and to bring you this good news." – Revelations 1:19.
You would not think so, but, there seems to be some form of hierarchy amongst the angels. The word "arch" means "chief" in Greek which leads us to believe that the archangel is the top-ranking level of the angels. We can see it in this example from revelations 12:7;  "And there was war in heaven, Michael and his angels waging war with the dragon. The dragon and his angels waged war,"  This is almost an obvious example of Michael the Archangel leading a group of angels into a battle as their troop leader against lucifer, who after would become a fallen angel and take on the name Satan.
Can an angel be in human form?
Angels come in many strange and terrifying ethereal forms, but what do angels actually look like in human form? When an angel wants to help a human to complete an objective or to appear to them to help bolster faith or calm their minds, they appear either as a normal human or one that has wings, a form that won't terrify the human viewer.
What do angels look like in real life?
There are many different types of angels and contrary to what people think of what angels really look like, they have extremely strange appearances. In real life, they will often appear in the form of a man as to not overwhelm the person they are appearing to.
"Then the woman came and told her husband, saying, "A man of God came to me and his appearance was like the appearance of the angel of God, very awesome. And I did not ask him where he came from, nor did he tell me his name". The angel of the LORD did not appear again to Manoah and his wife. Then Manoah realized that it was the angel of the LORD (Judges 13:6,21)."
When they do appear in human form they do so in the appearance of men, though they are sexless beings, not that of woman or child.
"But Mary stood crying outside the tomb. As she cried, she bent over to look into the tomb; and she saw two angels in white, sitting where the body of Jesus had been lying – one at the head and the other at the feet (John 20:11,12)."
In some cases, they may look like men but with striking details to them and with special clothing adorned.
"I looked up and saw a man clothed in linen, with a belt of gold from Uphaz around his waist. His body was like beryl, his face like lightning, his eyes like flaming torches, his arms and legs like the gleam of burnished bronze, and the sound of his words like the roar of a multitude (Daniel 10:5,6)."  
Often they aren't recognized as angels at first but as normal men.
"The LORD appeared to Abraham by the oaks of Mamre, as he sat at the entrance of his tent in the heat of the day. He looked up and saw three men standing near him. When he saw them, he ran from the tent entrance to meet them, and bowed down to the ground (Genesis 18:1,2)."
What do angels look like in dreams?
What does it mean when you see an angel in your dream? When one sees an angel in their dream, it is to receive a heavenly message from God, with whose message is delivered by an angel. Often people today who say that they are visited by an angel in their dreams, mention that they appear as the modern depiction of an angel, being a man with large wings. In the bible, being visited by an angel in ones dream is mentioned only a handful of times with Joseph.
"But after he had considered this, an angel of the Lord appeared to him in a dream and said, "Joseph son of David, do not be afraid to take Mary home as your wife, because what is conceived in her is from the Holy Spirit. She will give birth to a son, and you are to give him the name Jesus, because he will save his people from their sins."  Matthew 1:20-21
When appearing in a dream they often have instructions of heavenly importance, messages of warning.
When they had gone, an angel of the Lord appeared to Joseph in a dream. "Get up," he said, "take the child and his mother and escape to Egypt. Stay there until I tell you, for Herod is going to search for the child to kill him." –  Matthew 2:13
What do angels look like in heaven, is it different?
In heaven angels take on their true, bizarre forms, ranging from multi-winged creatures with multiple animal faces to ethereal floating wheels with many eyes. In heaven the Ophanim angels, the ones with the form of wheels with many eyes, act as wheels for God's chariot. Their bodies are not made up of physical matter but rather that of spirit and light. In heaven, angels are free to use their true forms but when visiting humans on earth or in dreams they take on less frightening appearances as to not terrify the viewer and appear more calming. When being seen in dreams they will appear with wings and when appearing in the waking world of a human they take on the form of a man.
What do angels look like? Our Key takeaways
So we can deduce from what we have spoken about in this article that originally angels were not as beautiful and serene as we have been brought up to know but actually quite obscure and terrifying-looking creatures made up of the spirit. Too incredible and strange to be seen by human eyes without invoking fear if not presenting themselves in the form of light or that of a human. Perhaps this is why in the new testament they were described different in appearance as to appeal more to a religious widening audience without the fear of deterrence.
FAQs
What do angels look like according to Ezekiel?
"I looked, and I saw beside the cherubim four wheels, one beside each of the cherubim; the wheels sparkled like topaz. As for their appearance, the four of them looked alike; each was like a wheel intersecting a wheel. As they moved, they would go in any one of the four directions the cherubim faced; the wheels did not turn about as the cherubim went. The cherubim went in whatever direction the head faced, without turning as they went. Their entire bodies, including their backs, their hands, and their wings, were completely full of eyes, as were their four wheels. I heard the wheels being called "the whirling wheels." Each of the cherubim had four faces: One face was that of a cherub, the second the face of a human being, the third the face of a lion, and the fourth the face of an eagle." –  Ezekiel 10:12
Are angels made of light?
Angels are not made up of light but may appear as a form of light when coming down to earth in the presence of a human, so as to appear more soothing.
What are angels made of?
Angels are made up of spirit and do not consist of matter as life does down on earth.
What do angels sound like?
Angels have been noted in the bible to have powerful and thundering voices. They speak in a language that is incomprehensible to human ears.
"heard unspeakable words, which it is not lawful for a man to utter" –  Corinthians 12:4
Interested in becoming a QHHT Practitioner?
Find out how YOU can become a QHHT Practitioner. We offer an entire online course journey to get you started, growing, and achieving your goals.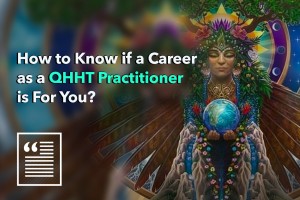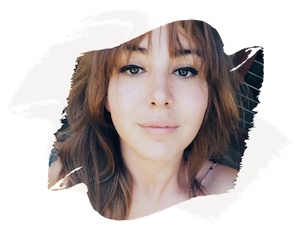 I am a creative and a wanderer. Mysteries and connections are what inspire me to write. While on my path, my purpose is to bring you information to help inspire you on your journey on this place called earth.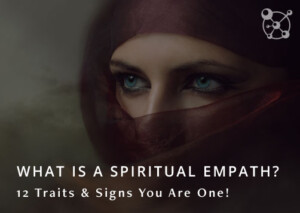 What is a spiritual empath? Many of us have had a friend at some point in our lives that claimed they could sense spirits or angels. Maybe that friend is you. Spiritual empaths are not only sensitive to other people's emotions, but they can sense when beings of the spirit realm are present. In this…Read More»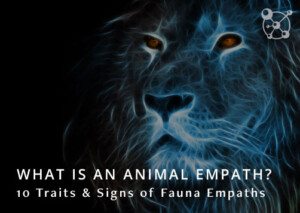 What is an animal empath? Do you have one of those friends that spend most of their time with their pets? Is that friend actually you? The chances are you might be a fauna empath, and able to sense the needs and desires of all animals….Read More»